What are harem pants?
Harem pants for women are long, loose, baggy pants. The pants have a slouchy fit and look that extends to the bottom and are cinched around the ankles. The style originated in South Asia, and it's worn by women all over the world.
What do you wear with harem pants?
There is a selected range of styles that you can carry off correctly when wearing harem pants. The pants are stylishly tied at the bottom with ribbon, elastic, or a separate piece of fabric. Harem pants look good in solid colors like black, grey, brown; they can be paired with printed tops that complement the bottom.
Here are some tips on how to wear harem pants, for a beginner:
As mentioned before, harem pants look great in primary and solid colors. You can opt for pants in hues like brown, grey, dark green, indigo, violets, and black.
If you want to go for a printed harem pant then you have to select a top in a solid color.
One of the trending harem pants style ideas is to pair the bottoms with a great pair of heels
If you use harem pants regularly, you can enhance the style element by tucking in the shirt and cinching the waist with a flattering belt
Go for harems that are made from natural fabric like silk or cotton, these materials provide a good drape.
To emphasize your harem pants, pair them with a cute crop top for a stylish look.
Low Waist Harem Pants with Black Vest Top
When it comes to Harem pants for women, the low-waist pants are quite stylish. This is a unique and feminine attire that is great as office wear. Go for printed design colors like black or brown and pair them with a solid black vest top, an emerald green cardigan, and a black heels to complete the classy look.
White Tee with Olive Green Harem Pants
This is a really popular street style that has the perfect blend of bohemian and comfort elements. This look is perfect for a casual get together with friends or to run errands like going for grocery shopping. Go for harem pants in an olive green shade and pair them with a white tee shirt. You can finish the look with red open toe heels and accessorize with a long necklace to add some shine to the attire.
Black Harem Pants with Leather Jacket
There are many harem pants style ideas to choose from, and black harem pants with a leather jacket is a popular option. The whole outfit has a cool biker chic vibe, that looks classy and feels comfortable. If skinny jeans are not for you, then you can pair your leather jacket with black harem pants and finish the look with a pair of ballet heels.
White Tank Top with Black Harem Pants
You may have heard about the basic casual look that includes blue jeans and a plain white tee, but the white tank top and black harem pant combination are gaining popularity as well. Not only is the look super casual, but it looks stylish as well. You can add little details like a black purse or bracelets to personalize the look.
Wear with Printed T-shirts
This is a great casual look that you can pair when stepping out to run errands or if you just want to lounge at home. Pair a fun printed shirt with solid colored harem pants, preferably in dark colors like black or brown.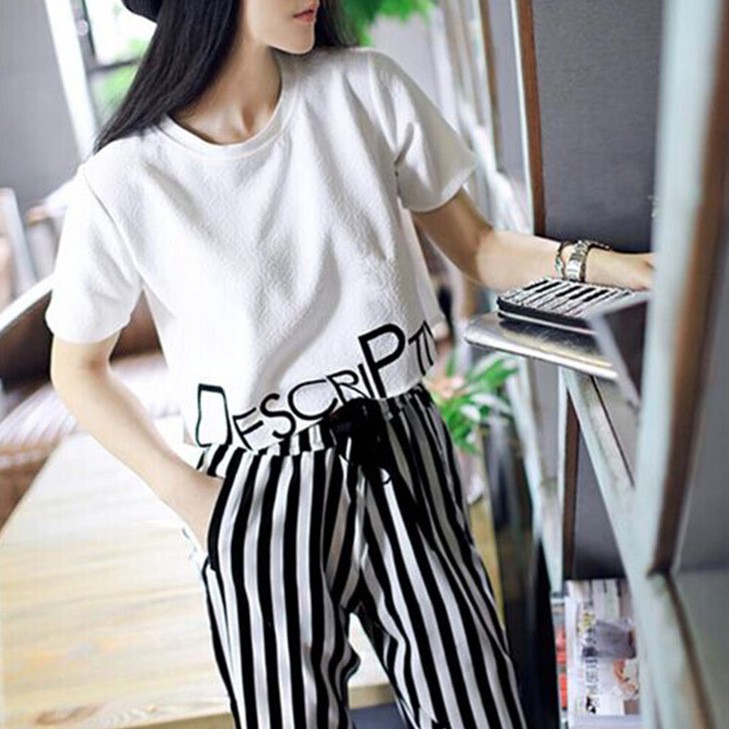 Wear with White Semi-sheer Boho Blouse
Semi-sheer blouses have a loose fit and the bohemian style looks great when paired with harem pants. You can complete the look with a pair of strappy sandals for that semi-formal look that works great for office events.
Drop Shoulder White Top & High Waist Pants
If you love the minimalist style then this simple combination is perfect for you. The white drop shoulder white top can be paired with black harem pants and a pair of black and white heels. The attire will look quite artistic.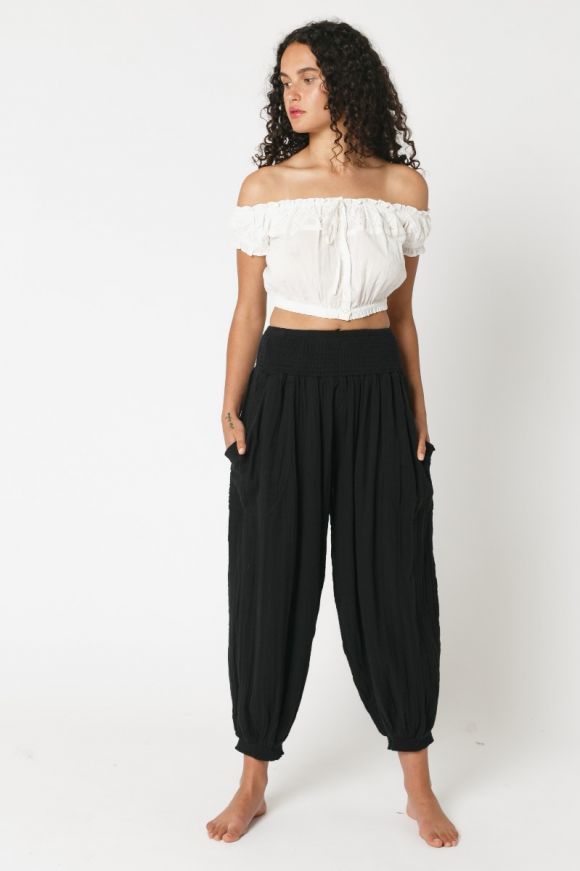 Low Waist Pants with Black Leather Jacket
If you want to know how to wear harem pants casually, then low waist harem pants can look amazing with a black leather jacket. Pair this combination with a simple grey t-shirt and black ankle boots to get a classic biker chic look.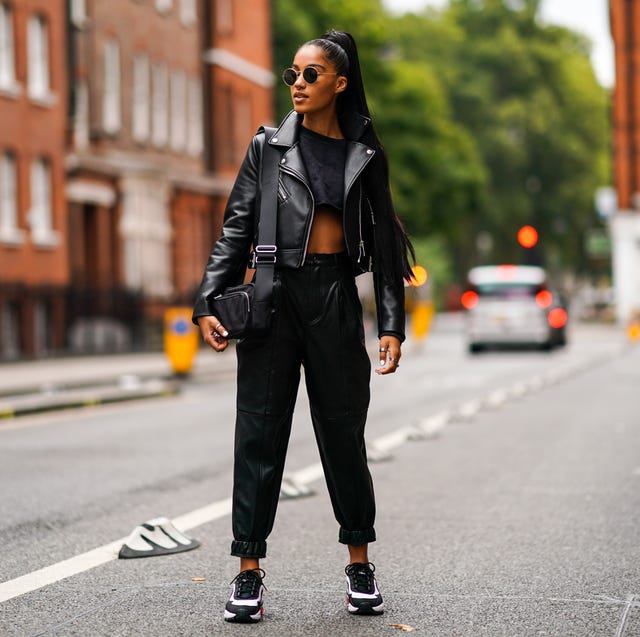 Where to wear harem pants?
Once you understand what tops do you wear with harem pants, then your next question will be, "where to wear harem pants?"
Well, there are many places to flaunt this comfortable and bohemian style, than just the grocery store. You can wear them to the beach, a casual picnic at the park, dance classes, to work, yoga class, music festivals, and so on. The options are countless, all you have to do is style your harem pants according to the occasion and you're good to go.
Harem style pants for dance
Harem pants are great for dance class because they are loose and allow much movement. Team the pants with a skinny tank top, and top it off with a cozy hoodie during the cooler seasons.
Harem style pants for work
Go for form-fitting harem pants, along with monochromatic hues for work because it gives off a formal vibe. You can glam up the attire with a sleek belt and minimal jewelry.
Harem style pants for yoga
Harem pants are a yoga favorite because they allow fluid movements without being restrictive. Pair the pants with your favorite solid colored tank top and you will surely have a secure and comfortable yoga class.
Conclusion
There is a reason harem pants for women are gaining popularity because not only do they look stylish, they are extremely comfortable as well. You can dress them up or down, and it looks great for any occasion. Opt for harem pants if you don't want to wear tight skinny jeans anymore and if you want to add some variety to your everyday outfits.